About us
High-Class Car Performance Tuning for BMW, BMW X and BMW M cars
dAHLer Competition Line Switzerland & Germany
BMW tuning parts specialist dAHLer Competition Line with headquarters in Switzerland has been the leading source of high-performance BMW tuning parts and BMW accessories in Switzerland since 1996.
dAHLer Competition Line Germany limited liability corporation is the official branch of dAHLer Competition Line Switzerland and offers worldwide shipping. It's run by its CEO Jorg Wey who has been working in the tuning sector for over 20 years and is therefore able to contribute the necessary experience.
dAHLer Competition Line offers a broad range of BMW tuning performance products from engine tuning performance upgrades, coil-over suspensions, lowering kits, performance exhaust systems, performance mufflers, alloy and forged wheels, interior parts as well as chassis tuning components that will transform your stock car into a true Ultimate Driving machine.
Our Engine Performance Tuning Module for BMW, BMW X and BMW M cars is a direct plug in to the existing (OEM) engine harness for a factory appearance and fitment and an instant hp and Nm / ft-lbs gains. There are only POSITIVES. The customer will simply be blown away by the power increase.
The Engine Performance Tuning Module BMW, BMW X and BMW M cars is completely reversible to OEM specs and installs in less than an hour just in a few simple steps. This will be a safely upgrade which makes this the easiest and most effective power upgrade you will ever make on your BMW. For a substantial increase in power output, with minimal downtime for installation, full serviceability, and can be reverted back to stock then this Engine Performance Tuning Module power upgrade is best!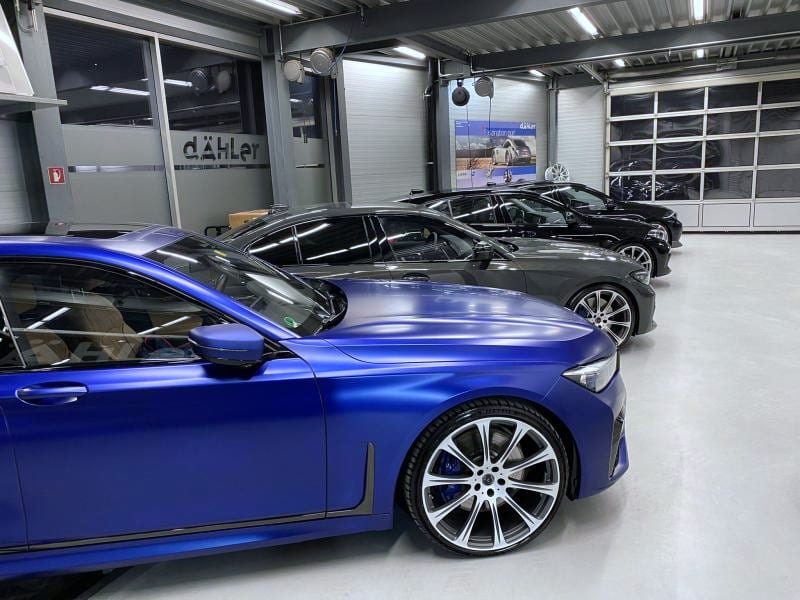 An addition to our exceptional performance upgrades for your BMW, is the dAHLer performance exhaust system, taking it to the next level.
You're looking for a high-quality German-made stainless steel performance exhaust system with exhaust flap for your BWM? Make sure you check out our selection of dÄHLer performance exhaust systems so, you can pick out the one that is perfect for your BMW with an aggressive quad exhaust.
All dAHLer performance exhaust systems for BMW cars are handcrafted from high quality 1.4301 stainless steel and are Made in Germany by a team of specialists at an ISO 9001:2015 certified facility.
For racing enthusiasts among BMW drivers, dAHLer offers an additional CAN-bus or remote-controlled exhaust flap control system for club sport events and track days. Here, the bimmer pilot retains 100% control of the maximum sound at all times – in every driving mode, rpm and speed range.
Performance Lowering Springs are the first step in suspension performance enhancement. A dAHLer lowering kit for BMW is a performance spring set created for the serious enthusiast.
A sports spring set with the lowest possible drop but with the exceptional ride quality you expect from a high-class tuner like dAHLer.
Using progressive spring technology to lower the vehicle's center of gravity. This proprietary progressive design delivery, both a smooth softer initial spring rate for exceptional ride quality combined with a stiffer final rate for high performance handling of your BMW car.
The benefits of a lower stance are many. Let's begin with the performance advantages of a dAHLer sports spring set installed in your BMW.
For those who want to take it to the next level, dAHLer offers coil-over suspension kits for your BMW. A coil-over suspension allows the driver to adjust various settings such as ride height and damping.
High-class dAHLer light alloy or FORGED wheels and wheel and tire packages in 20 inch, 21 inch and 22 inches for BMW cars stand for innovation and individuality and therefore are dAHLer alloy and FORGED wheels the perfect match for modern BMW cars and the real enthusiast who likes to think individually.
So, give your car something to set apart from the crowd with a dAHLer wheel and tire package for your BMW.
Aerodynamics is the study of how gasses interact with moving objects. We offer body parts such as front splitters, rear wings, side skirts, rear diffusers, exterior M style mirror caps for BMW cars in carbon or high-gloss black painted.
Air obviously isn't as dense as liquid, but it's still touching stuff. So, there is friction when something moves through it and makes drag probably the most important aerodynamic factor that we have to consider.